What You Will Find On This Page
Dri-Prep™ Features & Benefits
Etches uncoated concrete
Dri-Prep™ advanced formula acid crystals provide heavy duty etching to uncoated concrete prior to resurfacing or coating. Guards against risks of muriatic use: rebar corrosion and coating blisters. For best results, remove existing coating before using Dri-Prep™..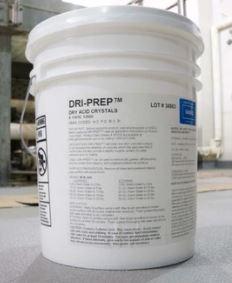 Dri-Prep™ Product Information
Weight per unit
200 SF: 8 LBS; 5000 SF: 56 LBS
Coverage
400 SF with cleaning mixture and 200 SF with cleaning mixture
Application Method
Stiff bristle broom
Packaging
Premeasured components in a 2 lb or 50 lb pail for easy application.
Typical Uses
Primers / Top Coats